CUSTOM WATCH
BUILDING EXPERIENCE

Join us to build your own bespoke watch for just £155.
Join us in the heart of historic St Andrews for a unique experience selecting and assembling your ideal watch before adding a one of a kind engraved message. Get hands on with the full Kartel watch range and take control to create a watch that will summon memories for years to come.
The unique appeal of such a memento makes a watch building experience perfect as a gift for a birthday, anniversary or retirement.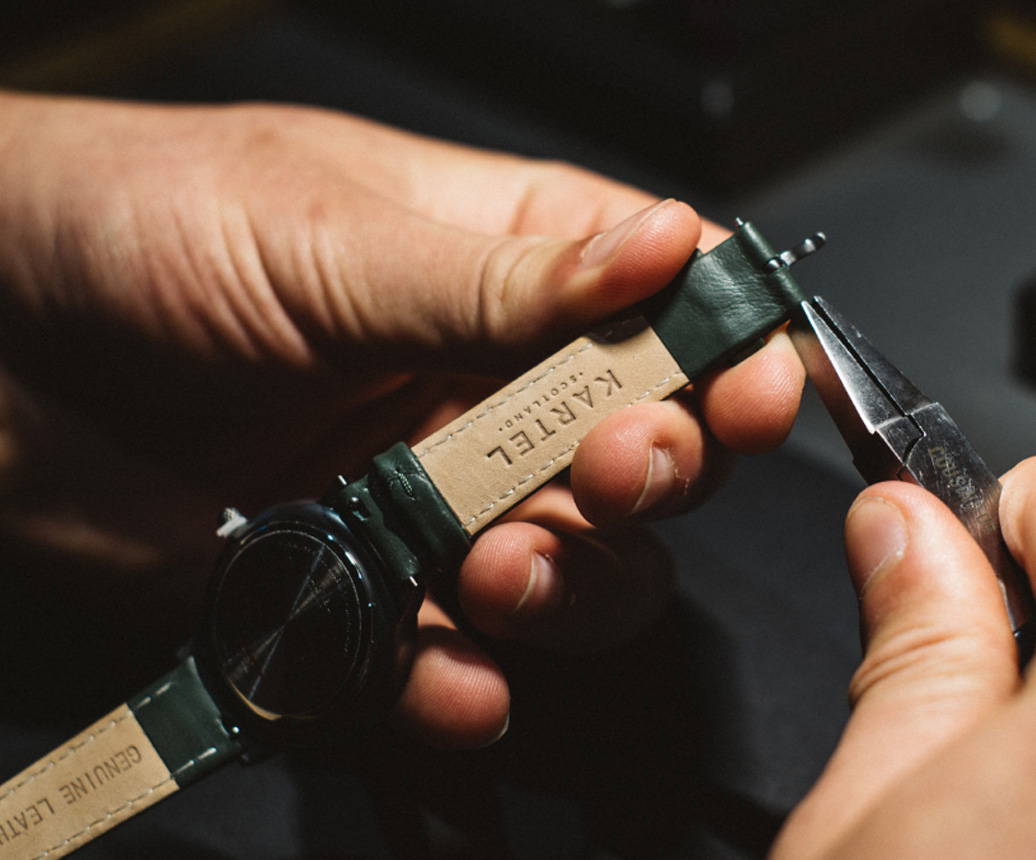 You will be met by our master watch-builder at our workshop in St Andrews for a warm welcome. Tea, coffee, whisky, local beer or wine are the order of the day along with fresh local fruit and Scottish tablet.
We will begin by sharing the history of local watch manufacturing and the story of our brand to help give you inspiration for the build of your own timepiece.
You will then be guided through our range of components, beginning with the options of case designs, to determine what best suits your style and needs. Once the watch case has been selected we move onto our vast range of straps, available in leathers, cashmere and wool by Scotland's Johnstons of Elgin, as well as authentic Harris Tweed options.
Next the master watch-builder will guide you through the assembly of your chosen components to create your finished wristwatch. Finally, you can further personalise your watch with a bespoke engraving. Adding text or even a handwritten message to the caseback. You will operate the engraving machine and watch your timepiece come to life.
And there you have it, a unique watch designed & made by you to keep forever.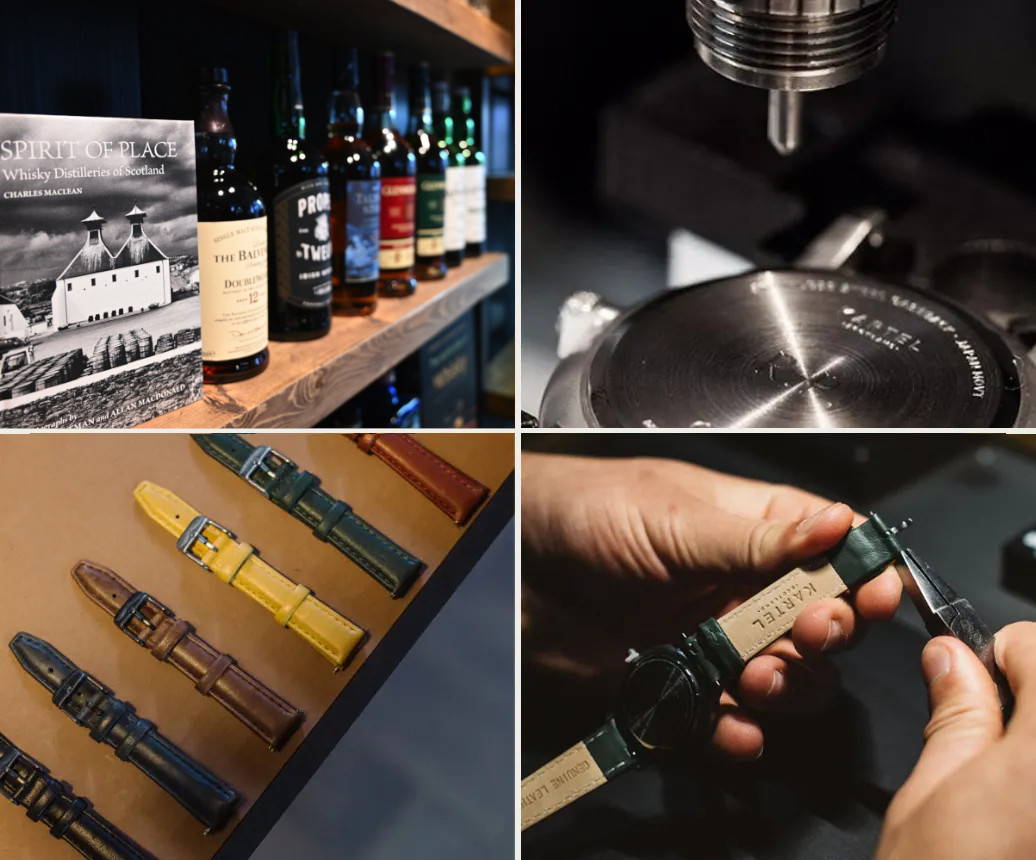 LEARN ABOUT LOCAL WATCHMAKING HISTORY
Our master watch builder will explain the history of local watch making dating back to the 1700s.
FOOD
Scottish produce - tablet, local seasonal berries and homemade shortbread
£135 OF RETAIL CREDIT
Spend £135 on any items of your choice to build the perfect watch.
1 HOUR WATCH BUILDING
Learn about our brand and our range to help you understand the possibilities of design to build your perfect watch.
DRINKS
Whisky, beer, wine, tea or coffee are available.
PERSONALISATION
Operate our engraving machine to add a personal touch to mark the moment.
Our Master Watch Builders,
Dale & Betty.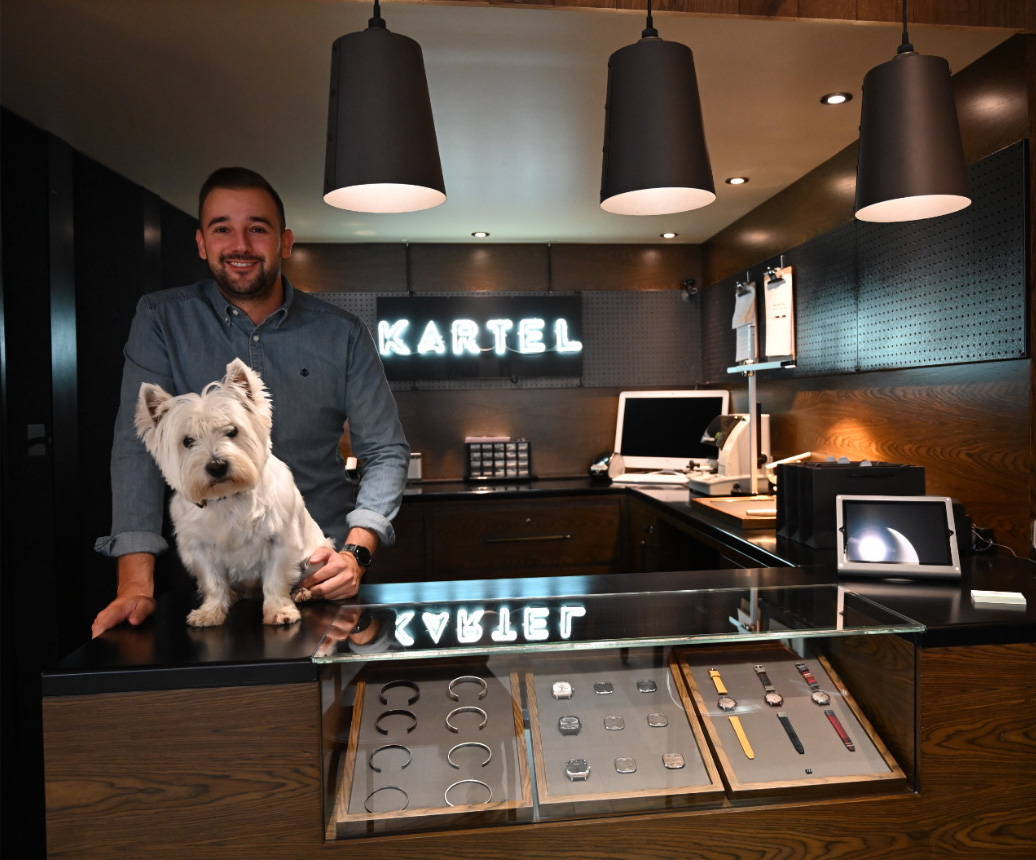 Bought this as a gift for my partner, we both really enjoyed the experience, designing and building our own watches with John! Even got them engraved too, fab value for money, would highly recommend!
I was given the watch building experience as a Christmas gift and being a watch collector I was over the moon.
The shop itself is beautiful inside and out, and from the moment I entered I was made to feel at home. I was given a coffee before moving onto the single malts. The decisions I faced with regards to watch and bracelet/ strap combinations were a lot harder then I expected. There was plenty to choose from and with my gift card I was able to obtain my ideal watch and not only one strap but two straps. This made the decision that bit easier. I now have a beautiful engraved watch.
This is one of the best presents I've ever had.
Already a proud owner of 2 Kartel watches (I'm hooked) and seen they now do a watch building lesson, so had to get a piece of that. Couldn't recommend this enough, nice bit of history about Kartel while sipping a single malt :) Made to feel super welcome and walked through each step of the process. There is so much choice and so many combinations it can take an age to decide. But managed to nail it down with the new Knoydart model, which is awesome. Pretty cool being able to work the engraving machine also. Cheers guys!